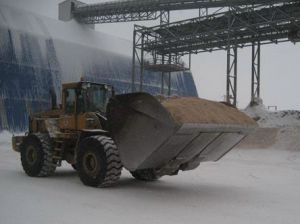 Overview: Fuel switch from oil/peat to waste biomass.
The project, at a wood products manufacturing plant in Kostroma province, substitutes conventional peat & oil-fuelled boilers with two biomass residue boilers to generate process steam. Each boiler has a capacity of 55MW, and uses as fuel wood residues from the manufacturing plant (and neighbouring facilities). The biomass fuel streams include waste that would otherwise have been disposed of through landfill with consequent methane emissions.
Benefits: Emissions reductions and sustainable development
This Project delivers reductions in greenhouse gas emissions by utilising a renewable wood biomass fuel source in place of the more conventional fossil fuels (peat and fuel oil) and by reducing the methane emissions that would otherwise have arisen due to the anaerobic decomposition of the wood waste. These emission reductions were quantified using the CDM methodology ACM036 version 02.2.
Additional activities in the framework of this project deal with the sustainable sourcing of raw materials and fibres for the wood products facility and extending Forest Stewardship Council (FSC) forest management standards.
The host country requirements regarding environmental impacts and standards have been followed by the project developer and the investment in the biomass boilers created additional employment opportunities at the plant and in the logistics of transporting third party waste residues to the plant.
Project carbon credits
The project methodology and compliance with the Gold Standard was validated by SGS in 2012.  Average annual greenhouse gas reductions by this project amount to 459,300 tonnes of CO2 equivalent (documentation available upon request). Over the seven year crediting period to 31 December 2012 the project achieved greenhouse gas reductions of 477,710 tonnes CO2 equivalent.