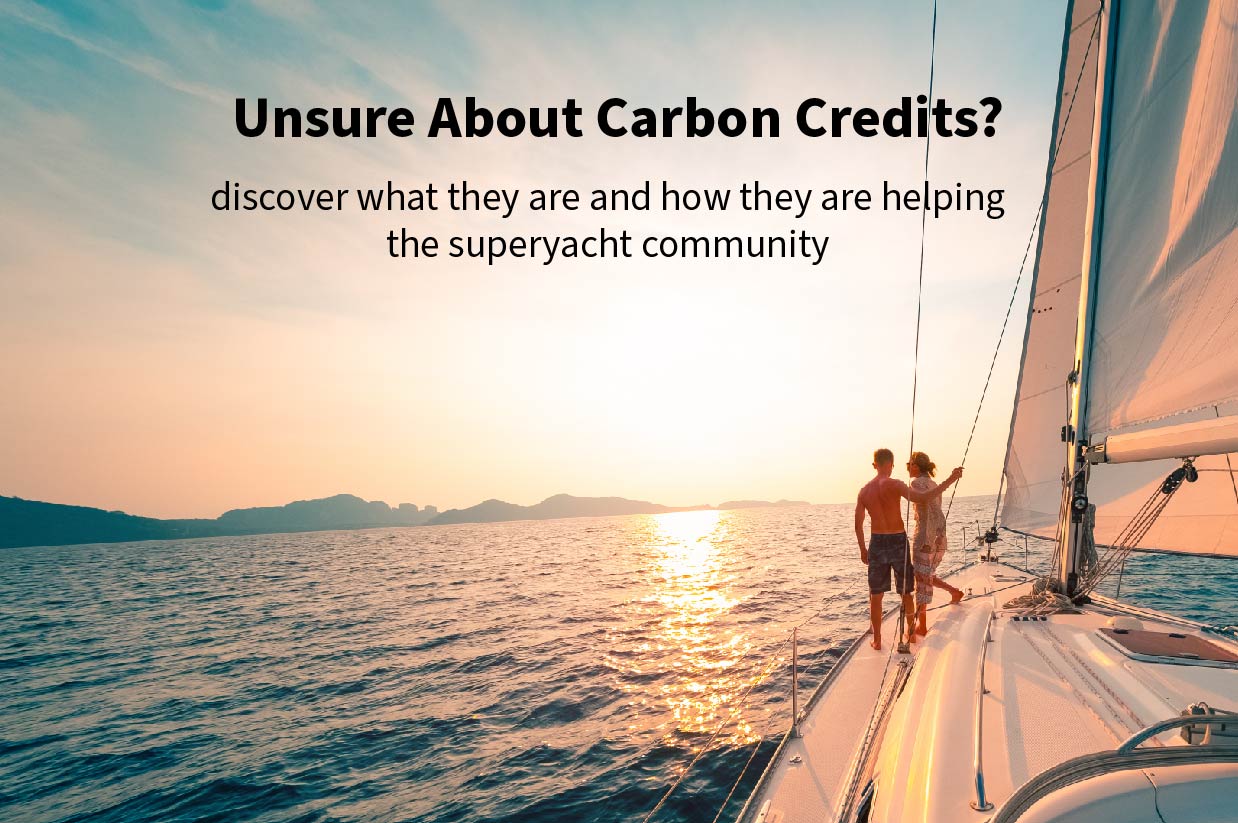 Are you unsure about carbon offsetting, carbon credits, and how they can benefit the superyacht community? Read below to find out more, check out our FAQs, and please don't hesitate to get in touch with us if you have any further questions.
A Quick Lesson in Carbon Credits
In the 1990s there was an increasing global awareness of the need to reduce greenhouse gas (GHG) emissions (carbon dioxide, methane and nitrous oxide). The carbon credit mechanism was developed under the 1992 United Nations Framework Convention on Climate Change (UNFCCC) as a tool to facilitate investment in carbon reduction projects in developing countries, with the objective of reducing carbon emissions and mitigating climate change and future global warming.

The key concept is that carbon credits are used to convey a net climate benefit from one entity to another. A carbon credit represents a reduction of one metric tonne of GHG emissions achieved by a carbon reduction project.
1 Carbon Credit = 1 tonne GHG Emissions Reduction by a carbon reduction project
Carbon credits are transferrable instruments. They are used to convey the GHG emissions reduction achieved by a carbon reduction project to a recipient (an individual or entity) that is generating GHG emissions. The recipient purchases the required number of carbon credits to counterbalance their own emissions on a tonne-for-tonne basis.
To allocate the emissions reduction, the carbon credits must be 'retired' on behalf of the recipient from an International Carbon Registry. The retirement permits the recipient to claim the underlying GHG emissions reduction towards their own GHG emissions reduction goals.
A project choosing to issue carbon credits must conform to the rigorous requirements of the selected International Carbon Registry Standard. The Standard's methodology covers project registration, carbon emission accounting, monitoring, verification, and certification. The resultant carbon credit issued by the carbon reduction are project are sold via the International Registry, raising funds to finance the project.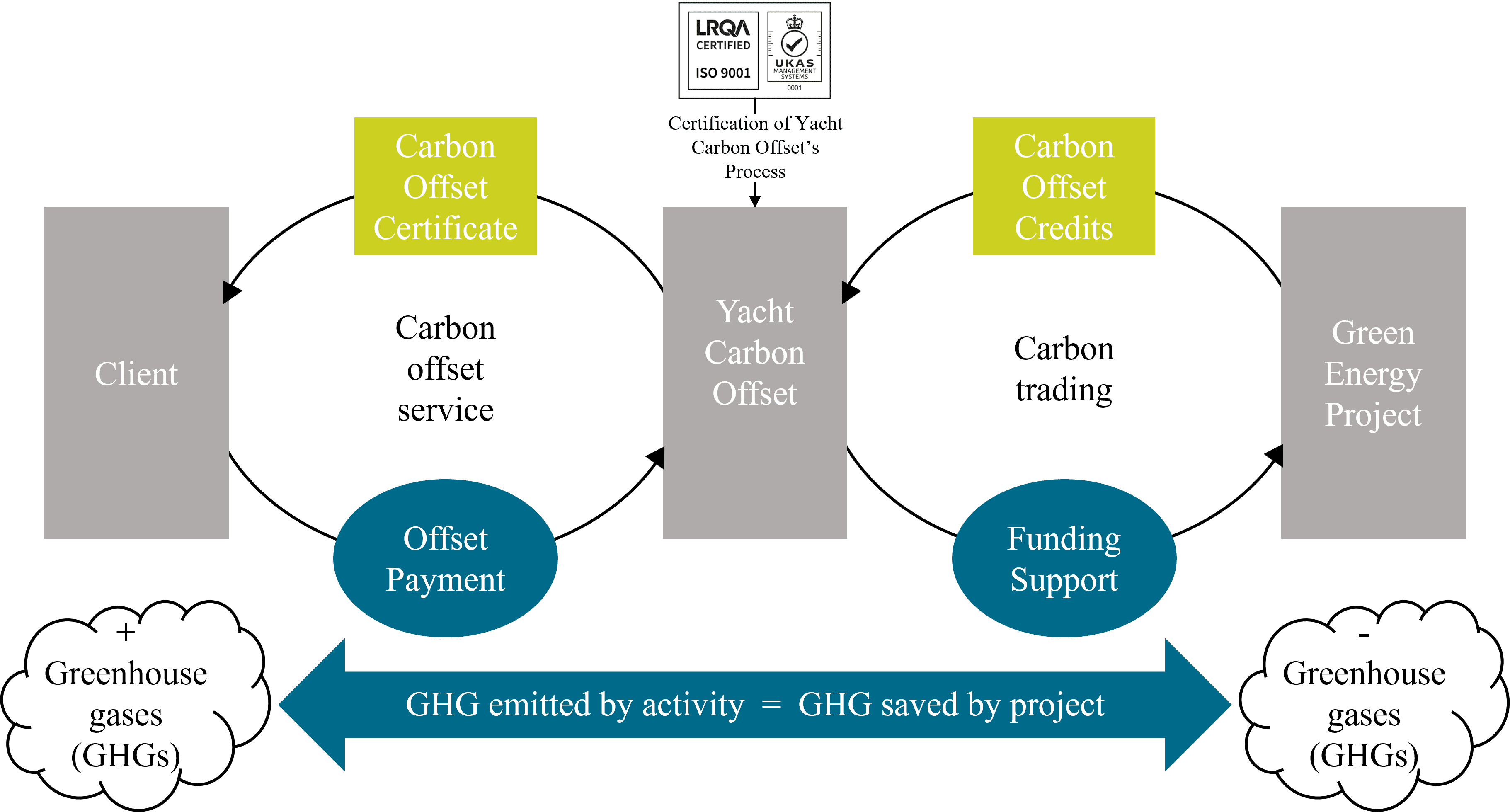 Carbon Offsetting and the Superyacht Community
Our carbon offset service exists to help the superyacht community to counterbalance its environmental impact. We do not claim that carbon offsetting is a perfect environmental solution. It is, however, one of several tools that can be used by our industry to reduce its environmental impact on the planet.
At the outset, we are strong advocates of first taking action to reduce your carbon footprint. Operating a yacht efficiently and taking measures to lower fuel consumption can serve to reduce your GHG emissions at the source. Ultimately, experiencing the full benefits of a yacht's range and performance will involve a corresponding quantity of fuel. Carbon offsetting offers an immediate, affordable, and effective solution to compensate for unavoidable GHG emissions that inevitably arise when enjoying a yachting experience.
With high public awareness of the link between GHGs and climate change, your decision to counterbalance the carbon emissions of your yachting activity is a practical step that will resonate with clients, guests, employees, stakeholders, and any others who share your awareness of the impact of your energy use. In addition to the positive environmental impact, the public relations benefit is also very real, particularly for participants who have high public prominence, or whose businesses have a policy of minimising GHG emissions.
Carbon offsetting demonstrates leadership and responsibility in addressing your environmental impact.
Now that you have learnt all you need to know about carbon offsetting, discover how Our Service can help you achieve a practical and effective way of counteracting the GHG impact of your yachting activity.