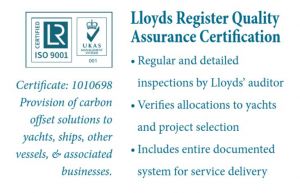 Lloyd's Register Quality Assurance to ISO9001
The independent scrutiny required to obtain ISO9001 Certification demonstrates that we operate to the highest levels of integrity and rigour.
Yacht Carbon Offset recognises the public visibility and high expectations of our clients and the importance of the highest ethical standards in delivering a discretionary service that addresses environmental sustainability. For this reason, we maintain a fully-documented Quality Management System that covers all material process elements. The delivery of our carbon offset Certificates is fully supported by auditable evidence.
Our process is Certified to ISO 9001 by Lloyds Register Quality Assurance. The regular independent external audit required to maintain this certification gives our clients full confidence in the validity of our service.
Yacht Carbon Offset commits to continually improving its service delivery and maintaining compliance with the requirements of the ISO 9001 Standard.
For further details on the International Standard ISO 9001, see www.iso.org and for details of the Lloyds Register group, see www.lr.org.