Look no further. At less than €0.05 per litre, the price to offset your carbon footprint with Yacht Carbon Offset is not only affordable – it is highly competitive. This means you can enjoy your yachting experience with peace of mind that you have counterbalanced the carbon impact of your cruising, without needing to compromise. See our price guide below.
Our Affordable and Competitive Pricing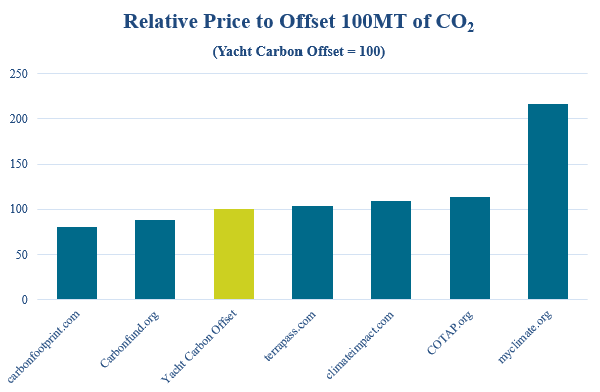 If you have any further questions about our carbon offset pricing, please don't hesitate to get in touch today.
We conduct regular benchmarking exercises to ensure that our pricing compares favourably with the published price of other carbon offset providers. As well as offering you a quick and simple carbon offsetting service, and a range of bespoke marine and renewable energy-themed carbon offset projects, we can also offer you one of the most competitive costs the carbon offset industry has to offer. We conduct regular price benchmarking exercises against the published price of other carbon offset providers to demonstrate that our service does not come at a price premium. Despite offering a high-quality, bespoke service – emission calculation, project choice & personalised certificate – we are one of the most cost competitive providers in the carbon offset industry.
Our Competitive Carbon Offset Price Guide
Carbon Offset Price Guide*
| | | | |
| --- | --- | --- | --- |
| Bunker Quanity (litres) | Tonnes Emitted (tCO₂e) | Carbon Offset Cost (€) | € per Litre |
| 10,000 | 28 |  € 420 |  € 0.04 |
| 25,000 | 70 |  € 940 |  € 0.04 |
| 50,000 | 139 |  € 1,810 |  € 0.04 |
| 100,000 | 278 |  € 3,540 |  € 0.03 |
| 200,000 | 556 |  € 7,000 |  € 0.03 |
*Price for all our selected projects, excluding our ♦Premium Projects
| | | | |
| --- | --- | --- | --- |
| Bunker Quanity (US Gals) | Tonnes Emitted (tCO₂e) | Carbon Offset Cost (US$) | US$ per US Gal. |
| 1,000 | 11 | $ 195 | $ 0.20 |
| 5,000 | 53 | $ 780 |  $ 0.16 |
| 10,000 | 105 | $ 1,485 |  $ 0.15 |
| 25,000 | 263 |  $ 3,590 |  $ 0.14 |
| 50,000 | 525 | $ 7,095 | $ 0.14 |