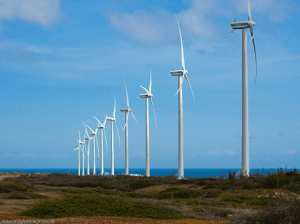 Overview: Wind power plant generating renewable energy. 
This project is the first wind farm on Aruba, one of the Lesser Antilles islands located in the Southern Caribbean Sea. The project is on the east coast of the island and consists of 10 wind turbines. These turbines have a combined generating capacity of 30MW, as well as the associated infrastructure to connect it to Aruba's grid. The wind farm has been operating since its installation in December 2009, and supplies around 18% of Aruba's energy needs. Aruba has a high demand for power due to its need to desalinate seawater for fresh water on the island. 
Benefits: Emissions reductions and sustainable development 
Greenhouse gas emissions are reduced due to Aruba's lower dependency on imported fossil fuels. The conventional power generation sources on Aruba are relatively carbon-intensive, producing almost 1.2 tonnes of CO2 per MWh. Based on a conservative production target of 126,000 MWh per year, the project will achieve annual carbon savings of 150,000 tonnes of CO2 equivalent. Actual performance has exceeded this target. 
The wind farm harnesses the island's wind resources and complements the potential for solar and geothermal projects. A further benefit is the improvement in air quality that occurs in the vicinity of the fossil fuel generators, the output of which is reduced as a result of the project activity. 
The project contributed to local employment during the construction phase and in the operational phase directly sustains five local jobs. The environmental impact in the vicinity of the installation is carefully monitored, including mitigating the risk presented to birds and bats by planting vegetation nearby. 
Project carbon credits 
Over the latest published two-year monitoring period to April 2018 the project reported greenhouse gas reductions equivalent to 328,253 tonnes of CO2, in excess of targeted performance. Greenhouse gas reductions achieved during the previous 2-year period were equivalent to 403,138 tonnes of CO2. The corresponding carbon credits were verified to Gold Standard by Earthood Services Private Ltd in January 2017 (documentation available on request).