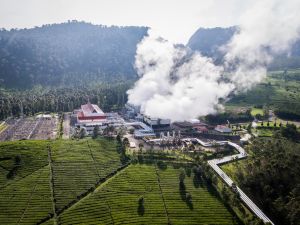 Overview:  117MW Geothermal Power Plant, displacing use of fossil fuels
This project is a geothermal power plant in Indonesia, situated south of Bandung in West Java. It has an installed capacity of 117MW.  The project is an extension of an existing 100MW geothermal plant and has been producing power since 2009. It is approved to release carbon credits under the United Nations Clean Development Mechanism (CDM) programme and the Verified Carbon Standard.
Benefits: Emissions reductions and sustainable development
By using the heat from beneath the earth's crust as an energy source the geothermal power plant produces electricity without the need for fossil fuels. This saves nearly 0.9 tonnes of CO2  for each MWh of electricity which would otherwise have been released by an alternative traditional, fossil fuel power plant.
Over its operating life, delivering around 950 GWh of electricity into the national grid each year, this project is expected to reduce carbon dioxide emissions by some 800,000 tonnes per annum.
The project overall is capital intensive, but no material public funding is available to its developers.  Hence, the project's financial viability is dependent on carbon funding. The project has contributed to local employment both during the construction and the operational phases.  The local community is also expected to benefit over the long term through the associated road and water infrastructure improvements.
Project carbon credits
The most recent verification of the UN CDM carbon credits took place in February 2020 by EPIC Sustainability Services Private Ltd. The CDM validation report (document available on request) confirms that the project's estimated annual average greenhouse gas reductions for the second crediting period (02 Dec. 2017 – 01 Dec. 2024) are equivalent to 743,033 tonnes of CO2 per year.