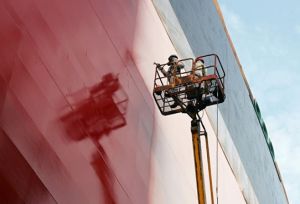 Overview: Improving ship fuel efficiency.
The project consists of applying an advanced antifouling system to a fleet of 17 ships. Fuel consumption data before and after the application of the advanced hull coating are compared to determine the fuel saving achieved by the project. This is the first greenhouse gas reduction project of its type in the worldwide shipping sector, and Yacht Carbon Offset is the first purchaser of credits from the project owner.
Benefits: Emissions reductions and sustainability
This Project delivers reductions in greenhouse gas emissions emitted by specific ships by increasing their fuel efficiency.  The strict requirements of the Project ensures that the fuel efficiency improvement can be correctly attributed to the low resistance coating.  For example, ships that have benefitted from engine, propulsion system or hull improvements during the project measurement period are not eligible to participate, because these other factors may have contributed to the observed reduction in fuel consumption.  The emission reductions were quantified using the Gold Standard methodology: Reducing vessel emissions through the use of advanced hull coatings Version 2 (17 November 2014), which was developed in conjunction with RINA and the coatings manufacturer.
Looking beyond these quantified carbon savings, the Project offers further benefits in strengthening the evidence base of performance improvement from the low resistance hull coating system. This in turn will highlight the economic and environmental benefits for the ship owner, supporting wider adoption of this technology.
Another significant environmental benefit is that this advanced hull coating is free of biocides. As a result toxins are not released into the ecosystem and food chain.
Project Carbon Credits:
During the latest public monitoring period (July 2015 – June 2016) year 2015, the Project greenhouse gas reductions were equivalent to 48,889 tonnes of CO2. This is in excess of the 17,500 tonnes average annual CO2 reductions forecast over the 10 year crediting period from 2010-2020. These carbon credits were verified to the Gold Standard in February 2018 by RINA.
If you wish us to assign the carbon credits from this premium project, please specify this when requesting your Yacht Carbon Offset quotation.