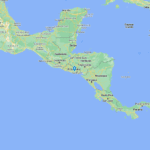 Overview: Berlin Geothermal Power Plant, El Salvador
The Berlin Geothermal Power Plant, located 100km east of the El Salvador's capital city, San Salvador, exploits heat from the Berlin Geothermal Field to generate electricity. High pressure steam from the field drives a 44 MW condensation power unit, supplying electricity to the national interconnected power grid.
The Berlin Field is one of two geothermal fields in El Salvador. The fields exist due to the country's location on the Central American volcanic belt. The strong seismic activity produced by the tectonic activity generates magma that heats nearby rocks and underground aquifers. The steam from the hot water reservoirs is harnessed to generate electricity.
The projects annual emission reductions are estimated to be 150,000 tonnes CO2e per year.
Efficiently exploits of El Salvador's indigenous resources to meet the country's rising demand for energy. Since 2020, 100% of El Salvador's population has access to electricity
Enhances El Salvador's energy security through fuel diversification.
Reduces El Salvador's reliance on imported fossil fuels.
Supports the conservation and reforestation program in areas surrounding the plant
The project has been supporting the local communities since its inception in 2007. The co-benefits include generation of local employment opportunities, social investment activities and the development of sustainable small businesses. The road infrastructure developed around the project has improved communication and commercial activities in the surroundings of the project
The corresponding carbon credits were verified under the UNFCCC's CDM by the approved third-party auditor, ICONTEC