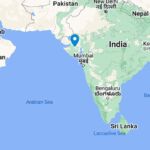 Overview:  150 MW wind power plant, displacing use of fossil fuels
This project is a large-scale power plant located in the State of Gujurat, West India, neighbouring the Arabian Sea.  The plant comprises 100 Wind Turbine Generators (WTG) developed by Suzlon Energy Ltd, each of 1.5 megawatts (MW). The combined installed capacity of the plant is 150 MW. There is also a high voltage transmission line connecting the plant to the national grid.
The project has been verified under the Verified Carbon Standard (VCS).
Benefits: Emissions reductions and economic benefits
The primary role of the project is to reduce greenhouse gas emissions from India by displacing an equivalent amount of electricity that would have otherwise been generated by fossil fuel generators. The project also helps to reduce the air pollution in the region due to the reduced fossil fuel consumption. Power from the projects is helping to improve the lives of the local population by ensuring a sustainable and reliable source of power. The project activity has also helped to improve the regional economy through the employment of skilled and unskilled labour and the development of local infrastructure, such as roads, water availability and medical facilities.
Commissioning of the plant took place between September 2007 and March 2008. The initial 10-year crediting period ran from September 2007 to September 2017. The project has been validated for a second crediting period from September 2017 to September 2027, during which the projected emission reductions are estimated at 326,203 tonnes CO2 equivalent (tCO2e) per year. Variation from this figure may arise due to yearly fluctuations in wind availability and wind speed
Greenhouse gas reductions achieved by the project in 2020 totalled 194,052 tCO2e and averaged 244,087 tCO2e in the two preceding years. The corresponding carbon credits were verified by the accredited carbon validation/verification companies, Earthood Services Private Ltd. and Applus+ Certification.