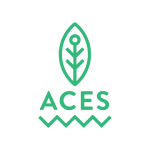 Association for Coastal Ecosystem Services (ACES) supports community-led blue carbon conservation in tropical regions. Through partnership with community groups, ACES develops and manages projects that protect and restore mangrove forests and seagrass meadows for the benefit of the climate, biodiversity and local people.
Mangrove forests and seagrass meadows are superheroes of the sea – they capture and store huge volumes of atmospheric carbon, they boost biodiversity and fisheries, and they protect the coastline from erosion and storms. However, they are threatened by over-harvesting, coastal development, pollution and a range of other human pressures.
Where people live alongside mangrove forests, communities and mangroves are intrinsically linked. This is why local people must be put at the heart of conservation. ACES works with community groups who want to protect and restore their mangrove forests, forming partnerships that support local people in developing projects, achieving carbon certification, and generating income through conservation. Our projects prioritise not only carbon benefit but biodiversity and community development.
ACES provides this service at little or no cost to the community – they recognise that often, those who are most motivated to protect the environment are the ones with little resources to do so. ACES aims to work with motivated, passionate groups who would not otherwise have the resources or capacity to develop an accredited project.