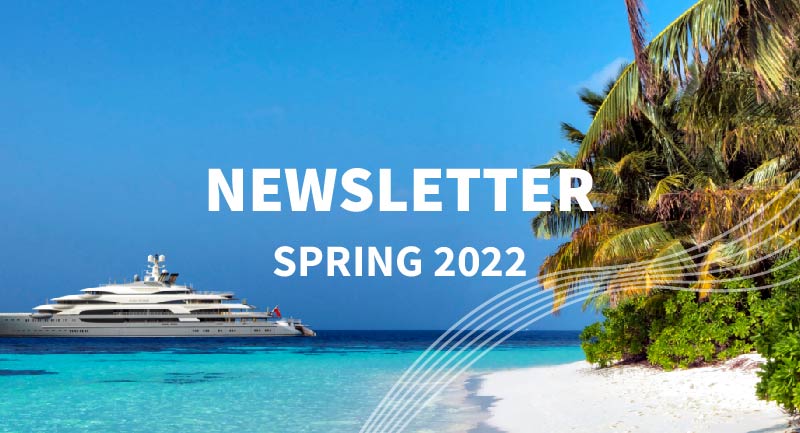 Hello Superyacht Community,
Thank you for tuning in to our Spring 2022 Newsletter! Our latest newsletter includes a helpful update on our simplified new charter process, an overview of two new projects in India, a new client announcement, and much more. Read below for a brief rundown of our latest news and updates and be sure to download our Spring 2022 Newsletter for the full stories.
New Charter Process
Discover our simplified system for offsetting charter emissions. Understanding how to enjoy the perks of a charter experience while counterbalancing your greenhouse gas emissions has never been so simple.
New Wind Project
We are delighted to announce two new additions to our carbon reduction project portfolio: a Wind Power Project in West India and a Hydroelectric Project in North India. As well as improving the health of our planet, find out what other benefits these projects are bringing to local communities in the country.
Innovative Approach to Community Carbon Offsetting
Find out how one of our clients, St. Katharine Docks (SKD) in London, is utilising an innovative approach to help curb the environmental impact of its yachting community.
An Eco-Conscious Gift from Ritzy Charters
Florida-based charter company, Ritzy Charters, has decided to give a 'gift' to each of its charter clients. Intrigued?
Riviera Radio
Stay tuned to Riviera Radio in the coming weeks to hear Rachel Goult, Managing Director of Yacht Carbon Offset, discussing carbon offsetting in the superyacht community with the breakfast show's host, Sarah Lycett.
IPCC Report – Key Takeaways
Discover our key insights on the latest IPCC Report and why we believe the superyacht community needs to act NOW.
Download and read our Spring 2022 Newsletter now, and be sure to subscribe so you don't miss out on further news and updates:
Did you read our October 2021 Newsletter? If not, you may have missed our updates on the IPCC Climate Report, and our new wind-power project in Turkey. Read now.