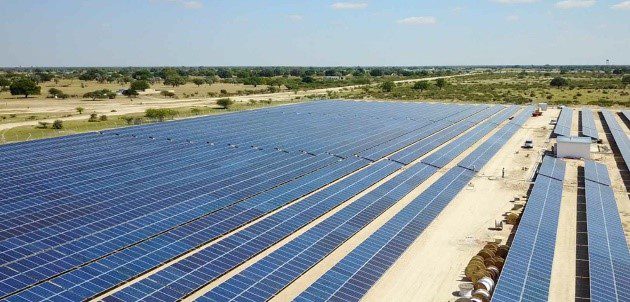 Overview: 12 MW solar power plant, displacing use of fossil fuels.
This project is a solar power plant in the Eastern region of Namibia, near the town of Gobabis. The project comprises two adjacent greenfield solar plants, Ejuva One & Ejuva Two, with a total installed capacity of 12.064 megawatt (MW). The plants have been operational since September 2017.
Benefits: Emissions reductions and economic benefits
The project is part of the government's target to achieve a 70% share of renewable energies in the energy mix by 2030. Namibia imports over 60% of its energy from the Southern African Power Pool, dominated by fossil-fuel fired power plants. The project complements Namibia's relatively clean domestic power generation mix, based largely on hydro power. The solar panels of the plant harness solar energy to generate renewable electricity, which is exported to the national grid.
The project started operations in September 2017 and will be issued emission reduction certificates over a ten-year period, through to September 2027. Projected emission reductions from the power plant are estimated at 26,265 tonnes CO2 equivalent (tCO2e) per year over the accreditation period.
Over and above the emission reductions, local benefits to the country include the improvement of Namibia's energy self-sufficiency, along with improved electricity quality and frequency. The project has supported the local communities through its contribution to local employment, both during the construction phase and for the continuing operation and maintenance of the plant.
Project's carbon credits
Greenhouse gas reductions achieved by the project since the start of operations have been in line with its design target. Project accreditation has been supported by AERA Group. The carbon credits were verified by TUV Nord, which continues to monitor operational performance. Both AERA Group and TÜV Nord are reputable bodies in their respective fields of expertise, supporting this project's credentials.