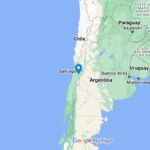 Overview:  113 MW hydroelectric power plant, reducing dependence on fossil fuels
Chacayes Hydroelectric Project (Chacayes Project) is a large-scale, run-of-river hydro-electric power scheme developed in the Alto Cachapoal Valley of the Andes Mountains, around 80 km south of Santiago. The project utilises the hydrologic resources of the Cachapoal and Cipreses Rivers to generate power from two 56.5 MW turbines. The project has been approved under the United Nations CDM programme and in line with the Verified Carbon Standard (VCS).
Benefits: Emissions reductions and economic benefits
Chacayes was the first in a series of five run-of-river hydroelectric project developed in Chile that added more than 600 MW of renewable energy capacity to Chile's national grid. The project has contributed to a material reduction in the country's reliance on fossil fuels and consequently to a reduction in carbon emissions. The project started operations in 2011, ahead of its first 7-year crediting period (July 2012 – July 2019). The project has received approval for a second crediting period through to July 2026.
The project is located in the Alto Cachapoal Valley of the Andes Mountains, where local employment opportunities are limited and infrastructure is poor. The Chacayes project has assisted improvement in local infrastructure (roads and bridges), as well as providing employment opportunities for the local communities. The project company has initiated various social projects within the locality of the project, including projects in education, health and projects aimed at improving the welfare of the local community.
The carbon credits of the first crediting period were verified by TÜV Nord. Thecrediting period renewal in 2020 was verified by AENOR. Projected emission reductions from the power plant are estimated at 234 thousand tonnes CO2 equivalent (tCO2e) per year.